My first experience with SoulCollage® was on my 40th birthday, when I hosted a SoulCollage® Tea Party. I hired a SoulCollage® facilitator for a private workshop for me and my friends. I fell in love with creating SoulCollage® cards and completed the Facilitator Training in 2010. In the same year that I completed the Training, I began a study of the Olympic Greek goddess archetypes. In the last nine years, SoulCollage® and the goddesses have brought me profound insights, healing, and creative joy.
The Innocent Child
Committee Suit

I am one who is caught in the claws of my stepmother.
I am the one who is feeling small and stuck.

Creating this simple SoulCollage® card made of only two images – the crab and the ballerina – transformed a painful relationship that I had with my stepmother.
When I sat down with my stack of magazines to create this card, my intention was to explore my outer critics, the people in my life whose words stung, hurt, and found a home looping in my mind as inner critical thoughts.
After I made this card, I sat with it for a while thinking about my relationship with my stepmother. Her crabbiness and snappiness were relentless when I was a child and even into adulthood her words were often cutting and critical. Looking at this card, I saw myself as the little ballerina and for the first time I thought of myself as an innocent child subject to my stepmother's wrath.
I had moved away from home when I was a young adult and came back to the area as a single mother. My son and I would visit my father and stepmother every Sunday, much to my dad's delight. While my son and I looked forward to visiting with my dad, we dreaded my stepmother's constant snippy remarks.
Looking at the SoulCollage® card, I felt like even as an adult, I was still the ballerina caught in the crab's claw. I thought, "How can the ballerina get free? If she struggles and tries to force herself free, she'll snap in two. But, what if she softens? Surely the crab's hold would also soften and ease up."
During the next Sunday visit I decided to do a little experiment, so I looked for a way to bring a softness to our interactions. As my father, son, and I were sitting at the kitchen table, I watched my stepmother fussing over us with a lunch that she had prepared. Each time I offered to help, she always insisted that I sit and visit with my dad. Watching her, I could see how she was wound up and irritable. I asked myself, "What does she need?" Knowing how much she dislikes cooking and how stressful it is to prepare a "nice" meal, it dawned on me that what she needed was an acknowledgement for all that she does.
What I said next changed our relationship forever.
"Nancy, you give me a gift each week. As a single mother, I have to prepare three meals a day, every day. I look forward to getting a break one day a week when I don't have to think about what to make, to shop for the ingredients, to cook the meal, and then to clean it all up. Thank you! I know how much work it is to plan and prepare these meals every Sunday. I truly appreciate it."
In that moment, the crab's claw not only loosened but opened up. She was so touched by my words as she remembered what it was like when she was a single mother. From that day forward, my stepmother was no longer the crab who nagged or snapped at me and my son.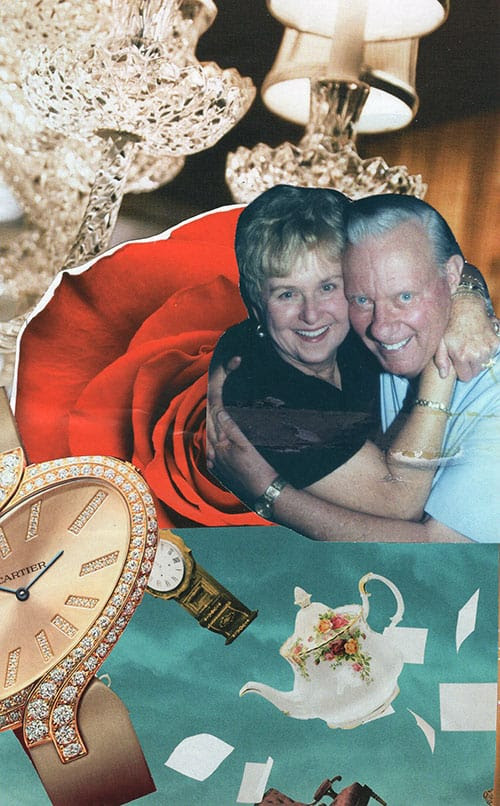 The Devoted Wife
I am one who is a devoted wife.
I am proud of my successful husband and beautiful home.


I love how we can use SoulCollage® to better understand ourselves and the people in our lives. When I was studying the Greek goddess archetypes, I created SoulCollage® cards to explore the personalities, strengths, and wounds of each goddess. Working with magazine images was a fun way to depict these mythic qualities in a contemporary way.
When I learned the story of Hera, Queen of the Olympic Gods, I instantly recognized my stepmother. Those who embody the Hera archetype are devoted wives whose main focus is keeping a beautiful home while supporting their successful husbands. In the Greek myths, Hera was often depicted as a woman scorned by her husband Zeus' infidelity. Rather than get upset with Zeus, Hera lashed out with anger and vengeance at the other women and their innocent children born from the affairs. Looking back on my life, I could see how my stepmother felt insecure comparing herself to my mother (the other woman) and resented the special place that I had in my dad's heart. Like Hera, she wanted to be the most beloved person to her husband.
Learning about the Greek goddesses, I discovered how each goddess type has different temperaments, dreams, and priorities. When I learned about Hera, it helped me to understand and appreciate how my stepmother and I have different interests and motivations. Where having a fancy home and being the dutiful wife is important to my stepmother, I'm a very different type. I'm independent and focused on my creative projects and connecting with my tribe of soul sisters. What I admire in Hera, and in my stepmother, is her devotion to the people she loves. She has taught me to expect the best and to have high standards.
To celebrate Nancy (my stepmother) and her Hera qualities, I created the SoulCollage® card pictured above that includes her favorite things, roses, fine china, a diamond watch, and her crystal chandelier.
When I shared with Nancy what I learned about the Greek goddesses and described Hera's qualities, she lit up with a big smile and said, "That's me!" Today, Nancy and I meet up for dinner at least twice a month where we share lots of laughs and feel deeply grateful for how our relationship has grown and healed over the years. Nancy has discovered in me a dear friend and confidant. In fact, I think it's time to make a new SoulCollage® card that reflects our renewed beautiful relationship.
Discover the Goddess in You
Online Course
The ancient myths of the Olympic Greek goddesses come to life in this online Goddess Course. You'll recognize qualities of these feminine archetypes in yourself and the women in your life and you'll be inspired to call upon their strengths within you to best serve your aspirations and your relationships.
Deepen your connection with the goddesses as you create SoulCollage® Cards or follow your muse and create goddess inspired art in any medium that delights you. Each month a different goddess is featured. You get a gorgeous envelope in the mail with an oracle card and other items we'll use in the online retreat.
Get the Details & Register Here